The New ,Innovative ,Patented Flat Plate Solar Collector
Instantaneous Efficiency Curve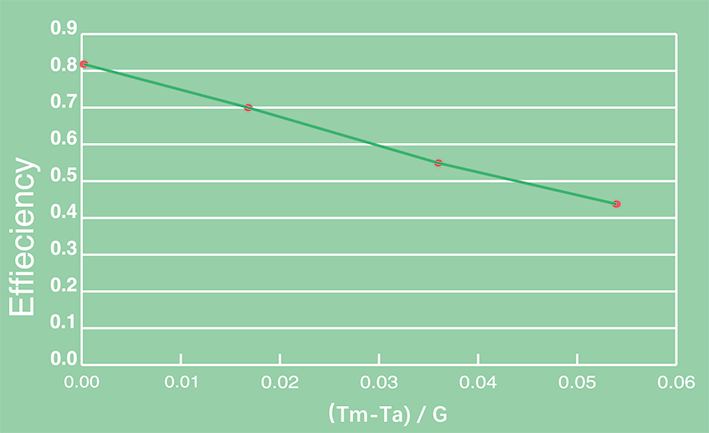 η0G=0.819(Test result from certified third-party laboratory)
Collector Model use for test: STE-2C-AO-F
Aperture area used for curve:1.904m
Solar Irradiation level: c. 900W/m2
Feature & Advantage :
1) High density eco-friendly double layers thermal insulation achieved with back and lateral PU foaming & whole packaged fiber glass.
2) The special bending extrusion aluminum frame provides a robust construction with absolute tightness.
3) Full back embossed aluminum plate features both high aesthetics and anti-corrosion.
4) Low-iron tempered textured glass provides excellent strength, anti-glare surface with 92% solar transmittance.
5) Standard or OEM size available.
6) High efficient absorber, excellent insulation layers and seamless casing work together to create a perfect high performance flat plate solar collector.

Model No. & Specification
STE-C-AO-F
STE-C-BC-P
STE-C-BS-P
STE-C-BS-L
Dimension
Length*Width*Thickness
1000/1500/2000*1000/1250*80/95mm
Absorber
Header Tube (Copper Tube)
Φ22/25*δ0.5/0.6mm
Riser Tube (Copper Tube)
Φ10/15*δ0.5/0.6mm 8pcs
Max. Working Pressure
0.8Mpa
Absorber Coating
Anodic Oxidation
Black Chrome
Blue Selective (Tinox or Domestic Made)
Blue Selective (Tinox Made)
Absorber Material
Aluminium Strip
Full Aluminium Plate
Full Aluminium Plate
Copper Plate
Absorber Material Thickness
0.5mm
0.4mm
0.4mm
0.2mm
Welding Method
Fusion Bonding
Package Ultrasonic Welding
Package Ultrasonic Welding
Laser Welding
Insulation
Layer one : PU Foaming
40kg/m³ Density / 10mm Thickness
Layer two : Fiber Glass
24kg/m³ Density / 30mm Thickness / Aluminum Foil Full Packaging
Cover
Material
3.2mm Thickness / Low-iron Tempered Textured Glass
Transmittance
Above 92%
Casing
Frame
Special Bending Design Extrusion Aluminum Frame
Frame Color
Silver / Champagne / Black
Frame Thickness
1mm
1.2mm
Back Plate
Embossed Aluminum Plate
Sealing
Silicone Glue