Split Pressurized Forced Direct Circulation System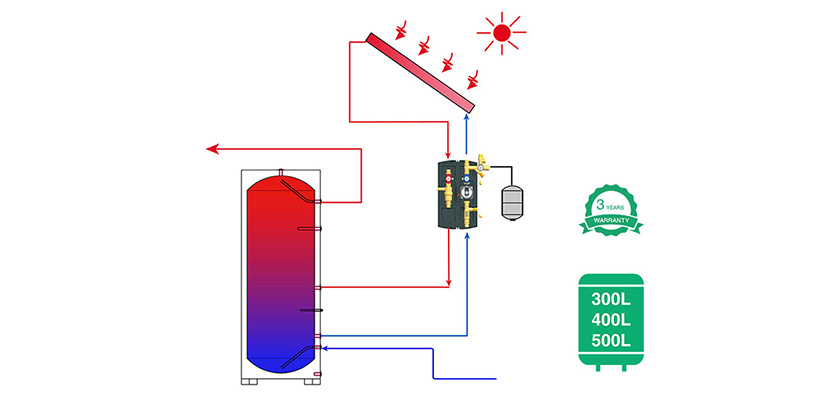 High Performance System
· High Performance System
· Large capacity storage tank with 50mm thick insulation layer, offer superior heat preserve performance.
Design for Comfortable Usage
· Pressurized system supply heated water with stable temperature and and flow rate.
· Hot water regardless of the weather with electric booster available.
· Available in 3 sizes to meet small to medium family size application.
Easy Installation and Operation
· Pump system allow flexible installation position for storage tank.
· Intelligent controller can prevent overheating, so maintenance is low requried in daily usage.

· Enamel coated tank provide excellent working condition & longer service life with no leakage, rust-free, high strength and strong resistance to corrosion.
Model No. & Specification
STE-SFD300/4
STE-SFD400/5
STE-SFD500/6
Water Tank
Circulation Type
Pressurized Open Circuit
Tank Capacity
300 L
400 L
500 L
External Dimension
Ø650*1570mm
Ø650*1790mm
Ø700*1900mm
Inner Tank Material
Stainless Steel / BTC304R with Enamel Coating
Outer Tank Material
Color Coating Galvanized Steel / Stainless Steel /0.5mm
Magnesium rods
φ15X200mm
Insulation Material
50mm Polyurethane
Electrical Booster
2.5KW
2.5KW
2.5KW
Flat Plate Solar Collector
Collector Models
STE-2.0C-BS-L
STE-2.5C-BS-L
STE-2.0C-BS-L
Dimensions
2000*1000*80mm
2000*1250*80mm
2000*1000*80mm
Quantities
2 pieces
2 pieces
3 pieces
Absorber Coating & Material
Blue Selective /Full Aluminium Plate / 0.4mm Thickness
Frame
Special Bending Design Extrusion Aluminum Frame / 1.2mm Thickness
Cover
Low-iron Tempered Textured Glass / 3.2mm Thickness
Tube
Header Tube : Φ22*δ0.6mm Riser Tube:Φ10*δ0.5mm
Back Plate
Embossed Aluminum Plate / 0.5mm Thickness
Insulation
Layer one : PU Foaming / 40kg/m³ Density / 10mm Thickness
Layer two :Fiber Glass/24kg/m³ Density / 30mm Thickness / Aluminum Foil Full Packaging
Bracket
Material
Painted Galvanized Steel/Stainless Steel
Install Type
Inclined / Flat Roof
Working Station
Manometer
0-10bar
Thermometer
0-200 C°
Water Pump
Max. Discharge Flow : 3.3m³/h , Max. Pump Discharge : 6m
Expansion Tank
8L
18L
18L
Accessories
Copper Connector
1 Set
Flexible Stainless Steel Tube
1 Set
Weight
Whole System Weight (Empty)
190KG
255KG
305KG
Loading Quantities
20GP Container
Inclined Roof : 22 Sets
Inclined Roof : 15Sets
Inclined Roof : 13 Sets
Flat Roof :20 Sets
Flat Roof : 13 Sets
Flat Roof : 12 Sets
40HQ Container
Inclined Roof :45 Sets
Inclined Roof :30 Sets
Inclined Roof :26 Sets
Flat Roof :40 Sets
Flat Roof :27 Sets
Flat Roof :24 Sets